Seven years ago, Slovakia erected insurmountable barriers to the arrival of foreign medical specialists, doctors and nurses. This stopped the influx of specialists from abroad for many years. The problem became very evident during the war in Ukraine.

Medical workers (as well as patients) began to arrive in greater numbers and could not find work with us. And this at a time when Slovakia is struggling with a shortage of medical personnel! The Lex Ukraine package, which was passed a month after the war began and was supposed to end the period of bureaucratic obstacles to the arrival of medical personnel from abroad, did not solve the whole problem. Although we consider even these small changes for the better to be a good first step. However, we need to start doing more already...

What should follow? What bureaucratic nonsense makes it difficult to achieve strategic goals for the future?

Bureaucratic nonsense

The practice of medicine is a regulated profession and therefore requires recognition of an educational qualification - a diploma - for which an apostille has been requested for many years. It is the authentication of the signature and seal on a public document for use in one of the contracting states of the so-called Hague Convention. In other words, it is an additional seal that certifies that, for example, a doctor's diploma contains the signature of the person in charge and is therefore an authentic diploma. Since June 1, 2022 this requirement was excluded from the process of documents recognition (now we can check authenticity of Ukrainian documents online REESTR of documents about education (edbo.gov.ua)). However, this bureaucratic obstacle has been eliminated only in the Ministry of Education and not, for example, in the Ministry of Health or the Ministry of Foreign Affairs. A gynecologist from Kharkiv, from whom the Ministry of Health requires in its decision of 18.10.2022 on the basis of Article 37 of the law on provinces a certified copy of the document on specialization, not to mention the number of documents (see photo below) has encountered this problem. In the case of certificates of specialization, the apostille is issued in the city where the medical professional worked. In this example, in Kharkov. Therefore, the original document unjustifiably recently traveled from Slovakia to Kharkiv, where it is very likely to be lost. The doctor asked the Ministry of Health for an extension. However, at the moment she cannot work as a gynecologist for a particular employer in eastern Slovakia.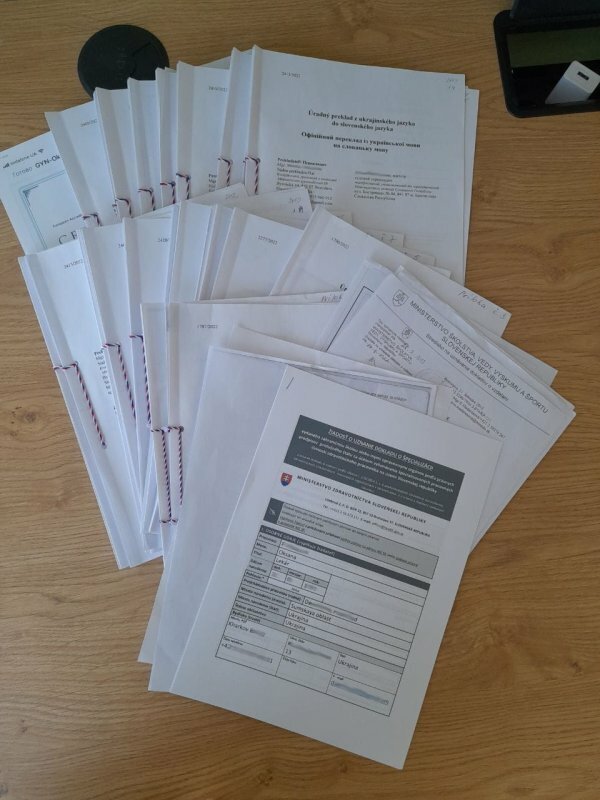 Photo: Documents for the recognition of the specialty of gynecology
The Ministry of Education is the first point of contact for integrating medical specialists from abroad, but it is by no means the only one. Why don't the people in charge, who are making every effort to facilitate the process of attracting specialists from abroad, go all the way to "doctor-nurse-dentist-pharmacist" in Slovakia?
Other examples of bureaucratic nonsense
For example, in order for a Ukrainian practical nurse to become independent after successfully completing a temporary internship, i.e. to work without supervision from a supervising practical nurse, she must pass a professional exam in Slovakia, which is expensive and complicated. When she passes, she finds out that according to our rules she is not considered a nurse and cannot even register with the Chamber of Nurses, because in Slovakia she is only a methodical and technical worker. Almost all nurses from Ukraine have a secondary education, and because of the difference in educational systems, even if in practice they perform more tasks in Ukraine than doctors in Slovakia (e.g. vaccination), they can only work as medical assistants.
While this is rather disappointing in the case of Ukrainian nurses, in the case of doctors it is complete nonsense. After the usurious exam, the doctor learns that when he registers with the chamber, he not only needs to submit to the ministry a certificate recognizing the doctor's qualifications, but also a legal validity clause. This is what the chamber requires of foreign doctors when they must register with the chamber after the exam. I believe that the chamber does not believe in the authenticity of Slovak documents, so it also requires a higher level of verification within Slovakia, along with a certified translation of the diploma and a criminal record certificate from the home country, which already looks like someone making fun of Ukrainian doctors. The reason is that when a diploma is recognized by the Ministry of Education of the Slovak Republic, the diploma is issued with a translation, or a court translation (for example, from Russian or English) is not required at all, an actual translation is sufficient. In Slovakia, a court translation costs a lot of money, and it is doubtful that the translation will be read by the Chamber, because it has already secured a notarized copy of the decision of the Ministry of Education of the Slovak Republic. And this is not enough for them?
In the case of doctors who need a visa to cross the border
Blog N: Don't we need nurses and doctors? (dennikn.sk)
to meet employers in person and demonstrate their skills at job interviews, we also have the overlap of having to present a diploma and nostrification, both at consulates (Ministry of Foreign Affairs) and at foreign police departments (Ministry of Interior).
Strategic goals and logic
In November, I was at a conference organized by the World Bank called "Human Resources in Health," where Slovakia was called a desert. We talked about statistics, which everyone already knows, and I don't need to mention it here, but it was also suggested what needs to be done based on the experiences of other countries. There were examples of good practices not only from developed countries, but also, for example, from Kazakhstan. We have the opportunity to change the situation in Slovakia as well.
Changes should be made in the following areas: education, professional development, organization of labor, distribution of tasks, attractive work environment, healthy work environment, digitization, databases and, of course, all this should be covered by the state. I would like to pay attention to the specifics of foreign health care workers because they have different needs. For example, when it comes to education, we need to think about the need for language training; when it comes to advanced training, we need to tell them how, where and in what period of time they can get it, as in the case of secondary school nurses from Ukraine, mentioned above.
We are losing them.
Current articles by Alona Kurotova are also available at dennikn.sk